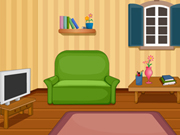 You were having fun in a room and all of a sudden the room closes and you get stuck. It is a very problematic room you need to try and get out before things become worse. The room is separated into two parts. All you need to do is there are hints and other objects hidden you just have to find them and make use of them at the right place and you are free to go and your game is over. It's Simple play the game and have fun.
Use mouse to play and find the clues.
Please install MyScoresPresenter Plugin in order to display game scores!