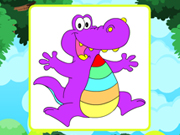 The crocodiles are bored with opened mouths that are frozen for want of flesh and you could give them some new colors and fabulous color combinations so that they jump with joy.
Click on the colors and drop them on the picture. Click next icon to goto the next picture and click finish icon to complete the game.
Please install MyScoresPresenter Plugin in order to display game scores!