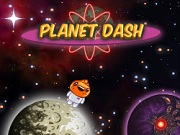 This astronaut's spaceship crashed on one of the planets of Andromeda star system. The rescue team is too far to come to help him, thus he can only rely on himself. Fly from planet to planet, collect energy balls and avoid traps.
* Use Arrow keys or WASD to run and jump on planets.* Use SPACEBAR to launch yourself off a planet.* Purple flags are save points.* Collect all cosmic energy units on each level to progress.* Some cosmic energy units are slightly hidden.* The next planet is always in sight - no need for wild leaps of faith :)* You have unlimited lives, but completing the game in less lives yields a higher score.
Please install MyScoresPresenter Plugin in order to display game scores!