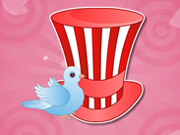 The Magician made a bet on your observation skill is that you cannotfind the pigeon hidden in the swapping hats. It is time to prove that you are right and not all magicians are all ways right.
Use mouse to play. Avoid unnecessary clicks and clicking the empty slot.Find the correct object within the time limit.
Please install MyScoresPresenter Plugin in order to display game scores!