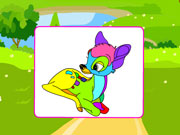 Explore all the happiness that you could get from the woods by enjoying moments with thedeer and his lovable surroundings. Express your happiness by adding interesting colors andwatch the fun grow.
Click on the colors and drop them on the picture. Click next icon to go to the next picture and click finish icon to complete the game.
Please install MyScoresPresenter Plugin in order to display game scores!