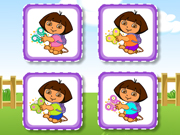 Dora enjoys herself in the garden trying to catch colorful butterflies. Collect her gleeful moods by matching similar images from the flip sides of the cards.
Observe the positions of the Dora images which are scattered over the cards. Memorize what you saw and once the cards are flipped, click pairs consecutively to win points.
Please install MyScoresPresenter Plugin in order to display game scores!