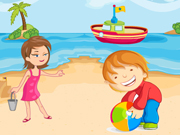 Kids are seems to be playing joyfully on the shore with marshy sand by enjoying the cool breeze. Go with these kids and double the joy of the moment by spotting the difference.
Click on the differences to spot them and complete the game before you lose time. Aware of wrong clicks since you might lose preciously earned points.
Please install MyScoresPresenter Plugin in order to display game scores!